We've now launched a new pack size of 1,000 across our 923 Series of staples. These new, handy pack sizes are ideal for saving space as there's no need to buy larger packs than needed and represent great value for money.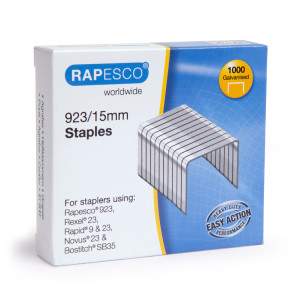 Our 923 Series is a hugely popular size of staple. Perfect for use in our heavy duty staplers, the 923 Series is also compatible with heavy duty staplers from other manufacturers, including those using the Rexel 23, Rapid 9 & 23, Novus 23 and Bostitch SB35 series staples.
These staples are made from premium quality raw materials to exacting standards to ensure precise, accurate stapling and a lasting fix.
Explore the full range of Rapesco staples and find your Rapesco dealer today.