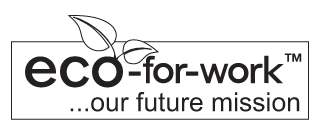 ---
Eco is more than just a product range for us
It's our statement and our philosophy. From product design to manufacturing, from marketing to distribution, every step we take is done with care for the environment.
We regard our environmental performance as a strategic issue.
We are continually seeking ways to conserve natural resources, to reduce the amount of energy we use, to eliminate pollutants and hazardous substances from our products and processes and to maximise the use of recycled products.
We operate a strict Quality Management System (QMS) and we are constantly increasing the awareness and importance of this global priority with everyone within the Rapesco supply chain.
Our Worldwide customers rightly expect us to make designs, developments and manufacturing processes and products as energy efficient and environmentally responsible as possible. It is a continuing mission.
Like quality, environmental management is a journey without a destination.
We think globally and act locally. After all, we are all in this together.
Eco-for-work, eco-for-life.