We've launched a number of product sets that feature some of our most popular items with accessories and complimentary products in great-value sets.Highly practical and convenient these sets represent great value for money and cover a wide assortment of our products: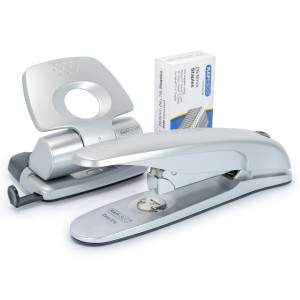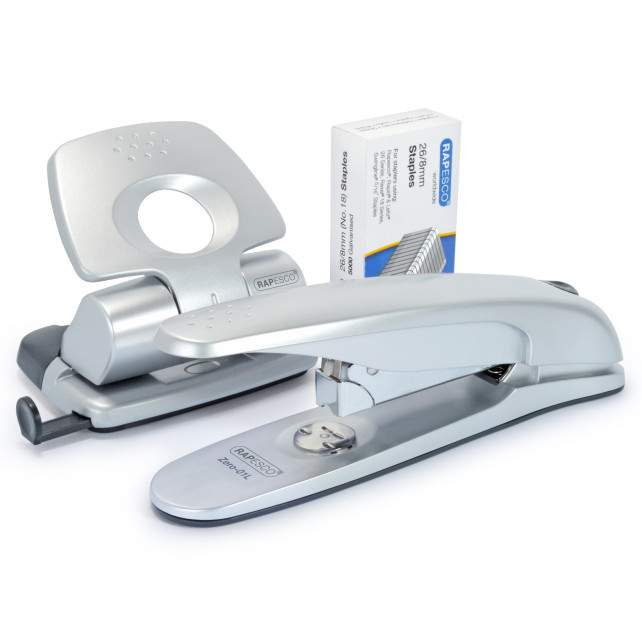 Our sleek, stylish desktop stapler the Zero-01L is a hugely popular product and a great addition to any desktop. This front-loading stapler is now available in two different sets, either with staples or with staples and the Zero-20 hole punch (left). The Zero-2o is an elegant and highly practical hole punch with 20 sheet punching capacity and lines that make it the perfect compliment to the Zero-01L stapler – the range of Zero staplers are design-driven, combining style with high levels of performance.
The Luna Stapler and P-830 Hole Punch represent great practicality and feature-rich design and are available together as a set. The push-button, front-loading Luna offers a stapling capacity of up to 50 sheets while the equally feature-rich P-830 has a punching capacity of 30 sheets (80gsm). For increased value, this set also includes 5,000 Rapesco 26/8mm staples – ideal for stapling up to 50 sheets with the Rapesco Luna. With their bold styling and striking blue colour, the Luna and P-830 make a great combination.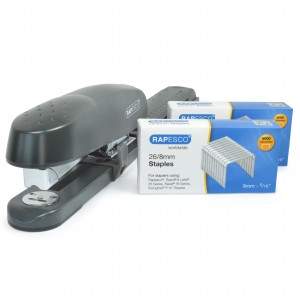 The 790 Front Loading Long Arm stapler is our top-of-the-range long-arm stapler. It's 50 sheet stapling capacity and 300mm throat depth make it ideal for a range of heavier duty tasks and centre stitch stapling of the largest pamphlets and brochures. With features including push-button front-loading and a calibrated adjustable paper guide/margin adjuster, the 790 Long-Arm is now available in a set with 10,000 Rapesco 26/8mm staples – ideal for providing precise stapling of up to 50 sheets.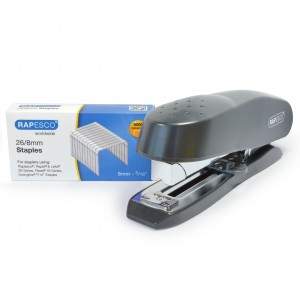 For executive desk-top stapling, the Rapesco Spinna heavy duty front-loading stapler offers 50 sheet (80gsm) stapling capabilities coupled with stylish and ergonomic design ensuring comfortable use and pride of place on many a desktop.Easy to load, the Spinna features push-button front loading and employs a magazine safety brake system to control the ejection of the magazine. The Spinna is available as part of a set that also features 5,000 Rapesco 26/8mm staples.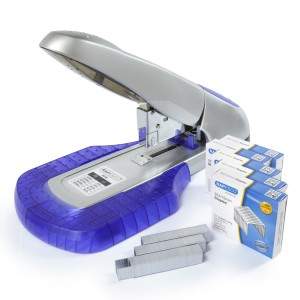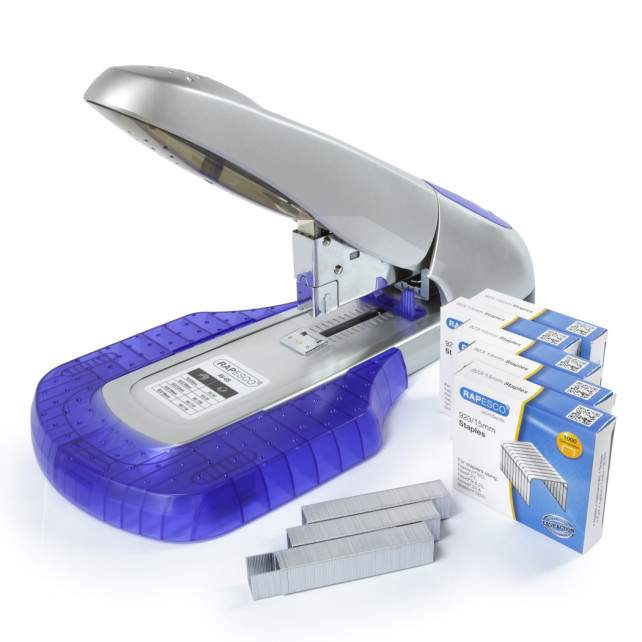 The AV-69 marries high stapling capacity couple with stylish design and high-spec, available as a set with 5,000 staples. With a stapling capacity of 115 sheets (80gsm), this heavy duty stapler is designed to deliver great results time after time with minimal user effort. This set includes the AV-69 Heavy Duty stapler with 5,000 923/15mm staples – ideal for stapling up to 115 sheets.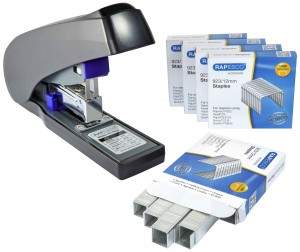 The X5-90ps offers high-capacity stapling with up tp 60% less stapling effort required. This cleverly engineered stapler has a capacity of 90 sheets (80gsm) and will make light work of demanding stapling tasks. With features including a paper guide that can also be used to clear staples in the unlikely event of a jam, the X5-90ps Less Effort stapler is also available in a set which includes 5,000 Rapesco 923/12mm staples, offering a high level of performance, practicality and value.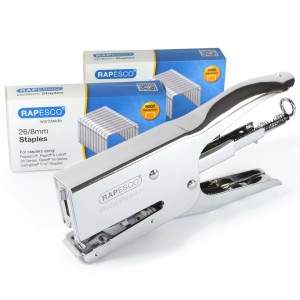 A traditional, all-metal stapling plier, the Rapesco Porpoise is ideal for a range of applications. Supplied, as part of a set, with 10,000 Rapesco 26/8mm staples. Ergonomically designed and with contoured handles, this stapling plier has a throat depth of 60mm and is perfect for packaging work, jiffy bags and mail room tasks. With a rear spring-loading mechanism, the Porpoise fires Rapesco 26/6-8mm and 24/6-8mm staples and is now available as part of a set which includes 10,000 Rapesco 26/8mm staples.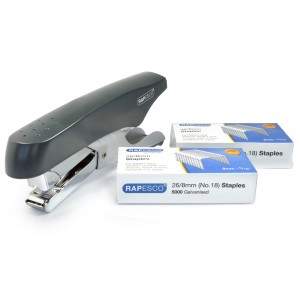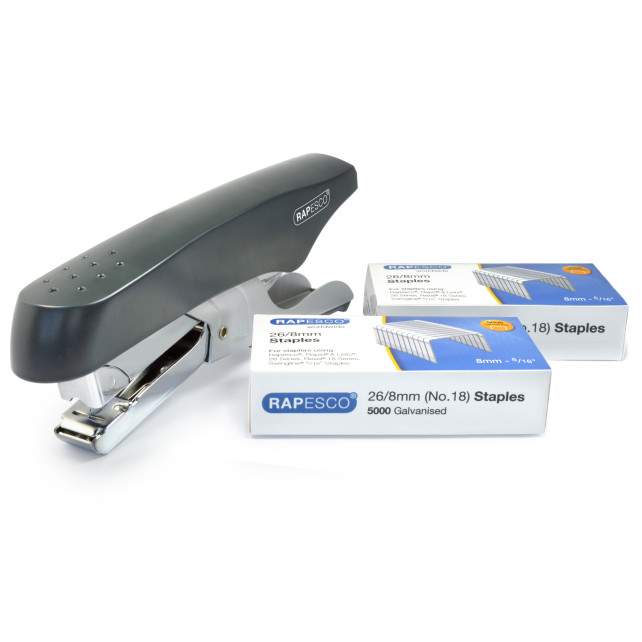 The Whale is a tough, metal-constructed stapling plier with ergonomic styling, comfortable handle grip and push-button front-loading system for ease of use. With a stapling capacity of up to 50 sheets the Whale is a highly capable plier stapler that's at home in the office, mail room, school and a range of other work stations. As part of this set, the Whale is supplied with 10,000 26/8mm Rapesco staples – providing everything you need to achieve great results on a range of applications.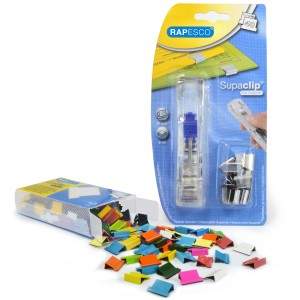 The Supaclip® is a unique and handy alternative to paperclips and staples. Easy to use, remove and reuse, the Supaclip dispenser easily attaches clips to paper and many other materials , idea for keeping papers neat, sealing packets, fastening for freshness and a host of uses around the office, home and even the garden. The Supaclip 40 Dispenser is now available in a set which includes 150 multi-coloured refill clips – ideal for a range of applications and perfect for colour-coding documents.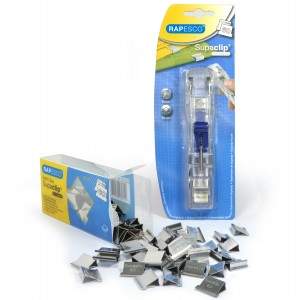 For larger applications the Supaclip® 60 dispenser is capable of handling up to 60 sheets of paper (80gsm) as well as a range of different materials. There's no need to punch or staple with Supaclip and the clips can be used time and time again, without marking the paper. Ideal for external tasks and work in the garden or shed as it handles stainless steel refills, the Supaclip 60 is now available in a set which includes 100 Stainless Steel refills along with the 8 clips pre-loaded in the dispenser.
We'll be adding more products as sets in the coming months, check out the full range of those products available in great-value sets.