Something new from Rapesco…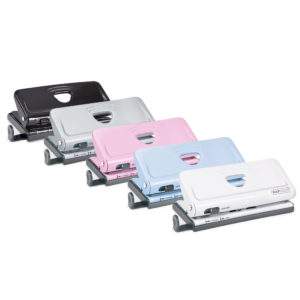 The brand new Adjustable 6-Hole Organiser / Diary Punch.
The result of customer and market research, this unique adjustable Diary Punch is the first of its kind to suit such a wide range of organiser brands and sizes, suitable for punching refills to fit diaries and notebooks by Filofax, Collins, Mulberry and Quo Vadis.
For increased personalisation, this innovative hole punch is available in five exciting and attractive colours: black, white, silver, powder blue and candy pink.
With easy adjustment, this new hole punch will suit the majority of personal organiser sizes (including A5) and has a number of user features that give it that little something extra including:
Personalisation window to make it your own
Easy, flip-open confetti / paper-chip tray
Paper guide with organiser sizing indicators for perfect alignment
Lock-down handle switch for easy storage
This new punch is the ideal accessory for any and every personal organiser / notebook / diary.