More great stuff from Rapesco!
Best Industry Guarantee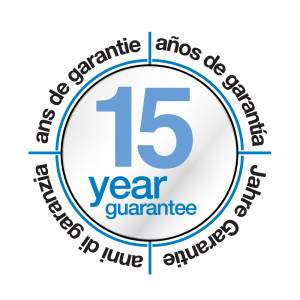 Did you notice that Rapesco stapling and punching products all carry a 15 year guarantee which is an industry best and testament to the thought and commitment behind the quality and integrity of our products.
Buy with confidence.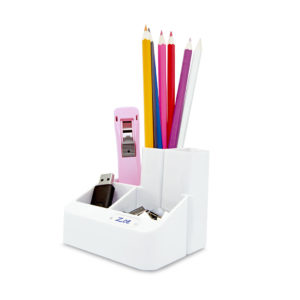 All Neat and Tidy
Offering more than an everyday pen holder – our new gloss finished Desktop Tidy / Organiser has five compartments with enough space to accommodate pens, highlighters, scissors and the front two compartments are ideal for smaller accessories such as clips or memory sticks.
Now in an attractive white finish to help keep your desk tidy and stylish.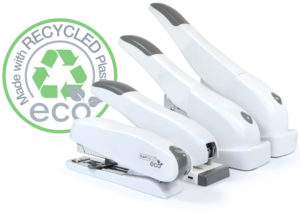 ECO – A New Approach
Our new range of Eco products really stand out from the competition. High quality staplers and hole punches manufactured from a high level of recycled material – available in attractive soft-white finishes. Stylish, high performance and Eco-friendly!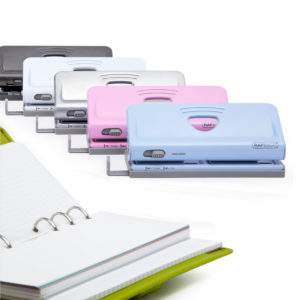 One Punch – All The Sizes
Our new, unique, Adjustable Diary Punch is the first of its kind to suit a wide range of organiser brands and sizes. Suitable for punching refills to fit diaries and notebooks by Filofax, Collins, Mulberry and Quo Vadis and other leading brands and, with easy adjustment, this punch suits the majority of personal organiser sizes, including A5 – making it an absolute must for users with multiple diary sizes!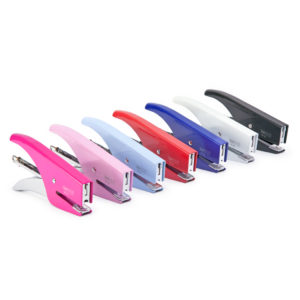 A Rainbow of Choice
The all-new SP-64 stapling plier joins our extensive range of stapling pliers.
This tough, traditional plier fires the Rapesco 64 (6/4mm) staple – hugely popular across Southern Europe as well as the UK – with a 12 sheet capacity and is now available in a choice of seven colours!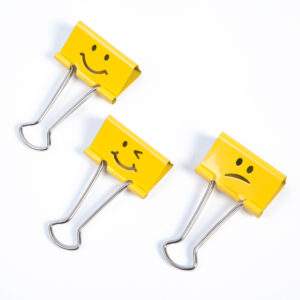 Smile!
Or wink, or even frown. Our new range of Emoji Foldback / Binder clips are a fantastic way to add a little fun to your paperwork and organising!
Available in a choice of sizes (19mm or 32mm), colours and pack size, these foldback clips are ideal for holding paper, card and much more. Keeping documents tight and secure has never been as much fun!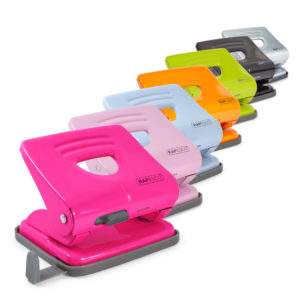 Any Colour You Like
Looking for a hole-punch that stands out from the crowd of black desktop punches? Our 825 hole punch is available in a range of seven colours – including attractive shades of candy pink, powder blue, orange and green.
The 825 – with 25 sheet capacity, flip open confetti tray and personalisation window – is a classic hole punch and this exciting new range of colours serve to add to its already popular appeal

Even more choice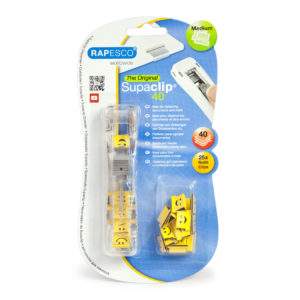 Our range of Supaclip refills and dispensers are ideal for a range of applications and available in a style to suit every taste. Now we've added even more choice!
The addition of three new Supaclip #40 Dispenser options – Powder Blue, Candy Pink and See-Through with Emoji Refills – means that there's a dispenser and refill choice to suit all.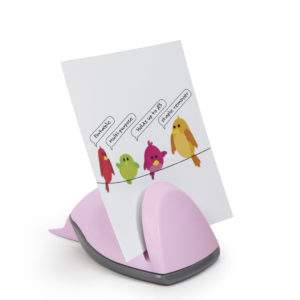 The Perfect Desktop Addition
The Paper Holder / Staple Remover is a great addition to any desktop! This handy little, multi-purpose document holder is ideal for use in the home, office or school environment or as a table setting, or to hold music scores, for holding a recipe while in the kitchen, or holding photos or…. the list goes on.
Its curved design keeps papers upright and can hold all paper formats up to A3 in size and has a build in staple remover. It's also available in an attractive selection of colours too.
Cut the waste…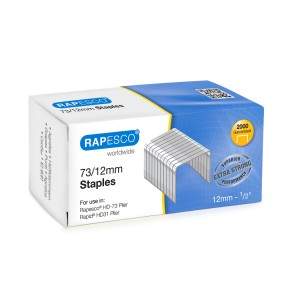 Did you ever hear the story about how the manufacturers of mustard make all the money from what gets left on the side of the plate?
We hate wastage and are working hard at all sorts of solutions including supplying staples in smaller convenient packs so you just buy what you need and you don't end up with 50 years supply sitting on the shelf.
These packs of 2,000 73 Type staples are the first of their kind in the world and are for use in Rapesco HD-73 packaging stapling pliers and are also perfectly compatible for Rapid HD-31 pliers.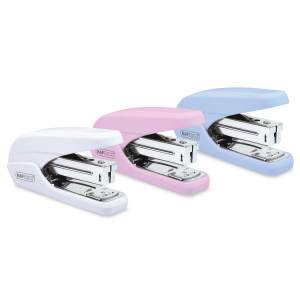 X5-25ps; super easy, neat, low cost and great colours…
Soft pink, powder blue and white all in high gloss shiny finish these are great fun and really easy to use.
The X5-25ps – Hit it, squeeze it, press it whichever way it's super easy to use and brilliant if you've got any kind of hand or wrist weakness such as arthritis or RSI.
SP-64 Plier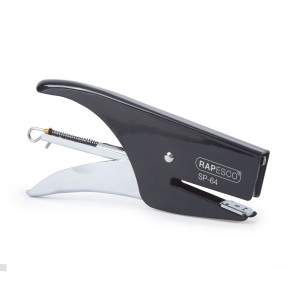 These little pliers are used in enormous volumes in Southern Europe and this is a great quality, well-built version. Also used in the UK for those who prefer a plier to a desktop stapler.
Comfortable to use with a 45mm throat depth and 16 sheet capacity – the SP-64 uses Rapesco 64 (6/4mm) and 21/4mm staples.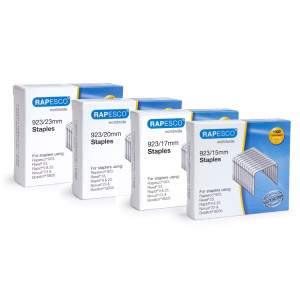 All the right staples in one parcel for your big stapling jobs…
One box each of our 923 15, 17, 20 and 23mm staples here and all compatible with those from other brands like 23 Type or SB35.
How frustrating to be in the middle of a job and find you don't have the right size or you mess it up trying to get by with what you have got? One great parcel with all the right ones here and at great value of course.
Awesome Value Bundles for those in the pink…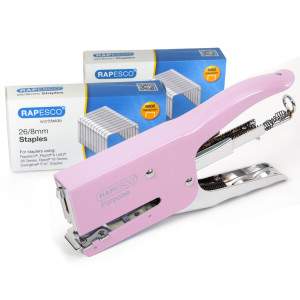 Bring a bit of colour and fun to your day-to-day stapling tasks with the benefit of long-lasting classic build quality but a fun splash of colour.
Brilliant value with 8mm quality staples thrown into the pack and a Plier Stapler which can handle thin wire 26 type staples and heavy gauge 24 type staples without any need for adjustment.
The thin 26 Type are perfect for day-to-day tasks and the 24-type ideal for those more demanding jobs.
923 Bundle; only the best sellers…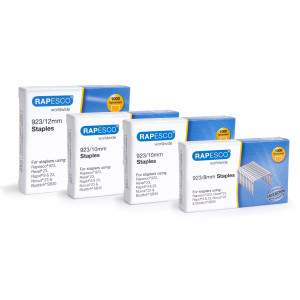 Only the most popular Heavy Duty staples included in this parcel. These staples fit all of the popular heavy duty staplers in the world. We call them 923 Type and other people call them 23 Type or SB35.
Loads to save and always good to have the sizes you need to hand.

True classics in soft pink and powder blue…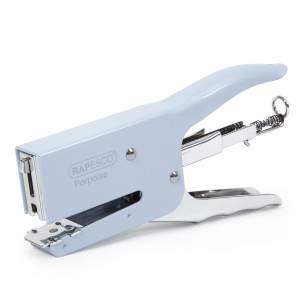 Porpoise plier now coming in soft colours but with a durable finish.
Still the only stapling plier to fire thin wire 26/6-8mm and thicker wire 24/6-8mm staples (1/4-5/16")  for heavier tasks, the Porpoise is a hugely popular and immensely capable stapling machine.
Awesome value bundles also on their way!
Ready to go…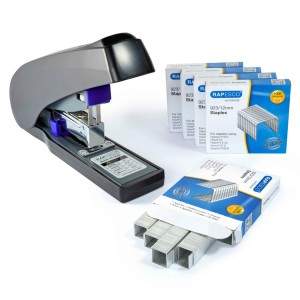 The X5-90ps is not only incredibly easy to use with its Less Effort technology but comes as a ready to go set with all the staple sizes you'll need regardless of the paper thickness you're working with – all available at great value as part of one of our bundle deals.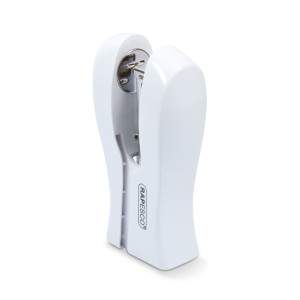 Stand Up / Space Saving; give me space…
This neat ergonomic stapler is easy to use but the main point is that it can sit ready to go and barely uses any space. Shiny white 20-sheet stapling at the ready.
54mm throat depth and features a staple-refill indicator and a lock-back feature for easy re-loading with Rapesco 24/6mm and 26/6mm staples.
Better results with AV-69 work tray….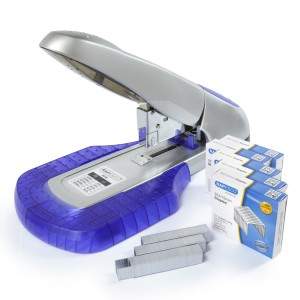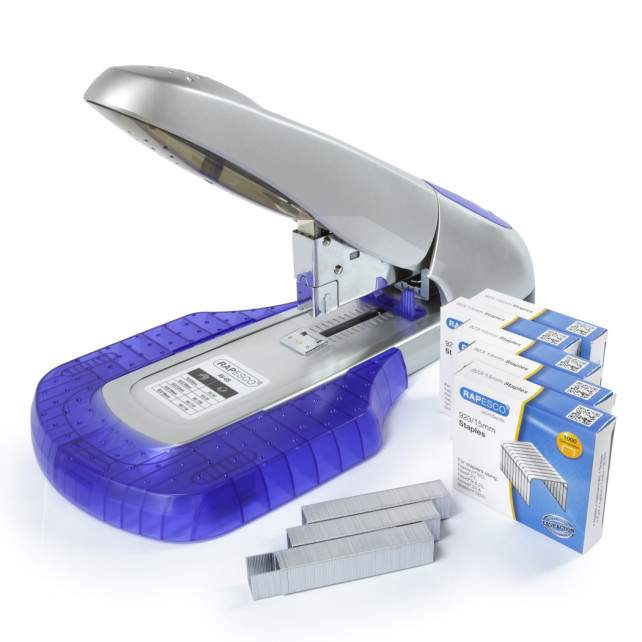 The only stapler in the world as far as we know with a work tray to keep your papers in the right place and nice and flat when you're stapling.
Up to  115 sheets and this tidy bundle comes with all the staples you'll need for all your paper thicknesses so you won't get caught out.
Mini Size Less Effort Stapler…. Perfect for Home Office and Students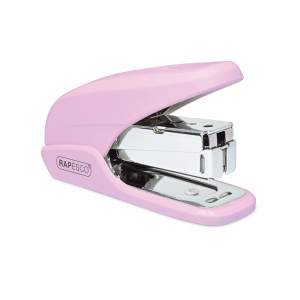 Our X5 range of Less Effort products has expanded to include two new staplers – both in a range of attractive colours.
The X5-Mini Less Effort is a compact and highly effective 20 sheets stapler, requiring 60% less stapling effort. Firing both 26 and 24/6mm staples, this handy little stapler is available in Powder Blue, Pink and White.
73 Series Staples in Boxes of 2,000… No Need To Buy Large Quantities You'll Never Use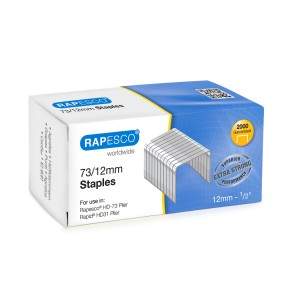 New to our range of  high quality staples – the 73 Type staples are available in 10mm and 12mm lengths in handy boxes of 2,000. These extra strong, superior performance staples deliver precise performance and are perfect for use in the HD-73 and HD-31 stapling pliers.
Emoji Supaclips… smile, frown, wink!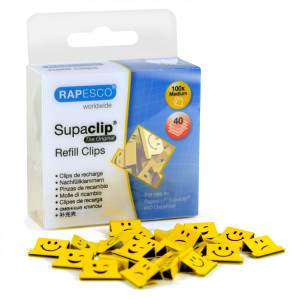 A unique and innovative way to fasten documents and more without the need for paperclips or staples.
Now available in fun emojis in a pack of 100 with smiles, frowns and winks. Who deserves a smile or a wink today?
Just re-sealed my cornflake packet with a smile; perfect for a world of fun uses in the home, office, garden and beyond…
Tell us what you use Supaclip for.
Share the love… Supaclip Hearts Packs of 100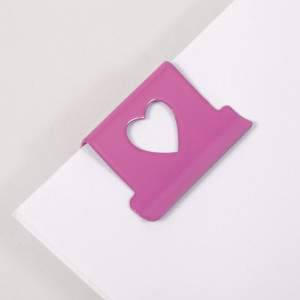 Perfect in your existing Supaclip dispenser, these hearts will brighten any paperwork and add your personal touch to a million applications.
We're sure Cupid would've used these – now's your chance to show some affection to even the most mundane paperwork.
New 3-hole High Capacity Punch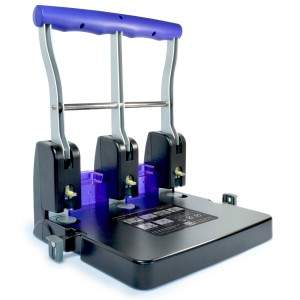 The P3100 is a new 3-hole model to compliment our range of high performance heavy duty hole punches, the P3100 has a capacity of up to 100 sheets.
With standard, US 3-hole spacing, the 3100 incorporates Hollow Punch Technology and clever engineering to deliver crisp, clean and effortless 3-hole punching of up to 100 sheets (80gsm) time after time – with 40% less effort required.
Packed with features including a self-centring paper guide, an easy-grip handle for effortless operation and easy-to-empty confetti draws, the P3100 is a user-friendly hole-punch with plenty of power for repetitive tasks.
HD-100 Heavy Duty Stapler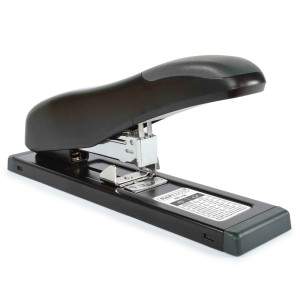 The latest addition to our range of staplers – the HD-100 is a compact yet powerful desktop stapler.
With a host of features, this half-strip stapler has a stapling capacity of up to 100 sheets – making it ideal for even the most demanding office tasks. Features include a soft-feel rubber handle grip for comfort, a unique paper guide locking system and tough all metal chassis with ABS top cap.
Easy to load, the HD-100 fires Rapesco 923/6-13mm staples, 24/8mm and our 24/6mm Hard Wire staples (for optimum fastening of up to 20 sheets).
New Colours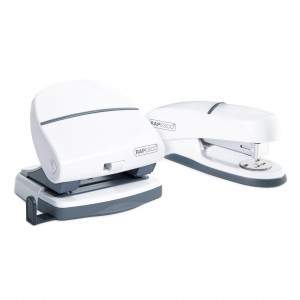 The P20 Shimma stapler is a stylish, premium, ABS half strip stapler which offers easy top loading capabilities and a capacity of up to 20 sheets (80gsm). Feature rich and benefiting from a personalisation window and safety-lock back feature for safe re-loading, the P20 Shimma stapler is a perfect companion on the desktop for the the P30 hole punch. The P30 punch combines comfort and styling with practicality.
Hugely popular, these products make the perfect duo and are available together as one of our great value sets.
New Package Sizes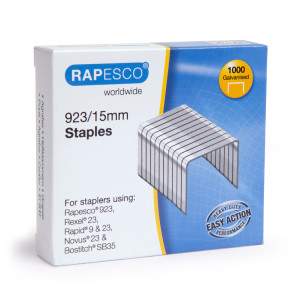 Our 923 Series is a hugely popular size of staple. Perfect for use in our heavy duty staplers, the 923 Series is also compatible with heavy duty staplers from other manufacturers, including those using the Rexel 23, Rapid 9 & 23, Novus 23 and Bostitch SB35 series staples.
These staples are made from premium quality raw materials to exacting standards to ensure precise, accurate stapling and a lasting fix.
We've now launched a new pack size of 1,000 across our 923 Series of staples. These new, handy pack sizes are ideal for saving space as there's no need to buy larger packs than needed and represent great value for money.
Great Value Sets
We've launched a number of bundles that feature some of our most popular products with accessories and complimentary products in great-value sets.Highly practical and convenient these sets represent great value for money and cover a wide assortment of our products: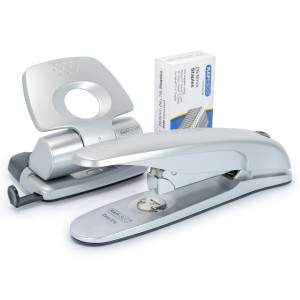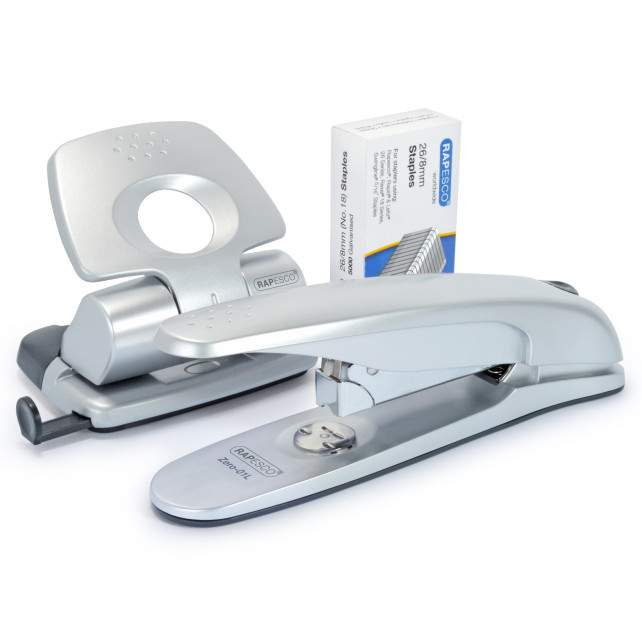 Our sleek, stylish desktop stapler the Zero-01L is a hugely popular product and a great addition to any desktop. This front-loading stapler is now available in two different sets, either with staples or with staples and the Zero-20 hole punch (left). The Zero-2o is an elegant and highly practical hole punch with 20 sheet punching capacity and lines that make it the perfect compliment to the Zero-01L stapler – the range of Zero staplers are design-driven, combining style with high levels of performance.
The Luna Stapler and P-830 Hole Punch represent great practicality and feature-rich design and are available together as a set. The push-button, front-loading Luna offers a stapling capacity of up to 50 sheets while the equally feature-rich P-830 has a punching capacity of 30 sheets (80gsm). For increased value, this set also includes 5,000 Rapesco 26/8mm staples – ideal for stapling up to 50 sheets with the Rapesco Luna. With their bold styling and striking blue colour, the Luna and P-830 make a great combination.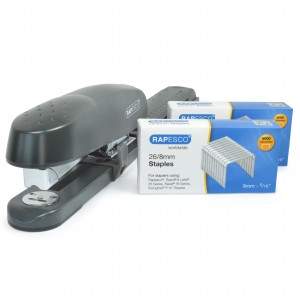 The 790 Front Loading Long Arm stapler is our top-of-the-range long-arm stapler. It's 50 sheet stapling capacity and 300mm throat depth make it ideal for a range of heavier duty tasks and centre stitch stapling of the largest pamphlets and brochures. With features including push-button front-loading and a calibrated adjustable paper guide/margin adjuster, the 790 Long-Arm is now available in a set with 10,000 Rapesco 26/8mm staples – ideal for providing precise stapling of up to 50 sheets.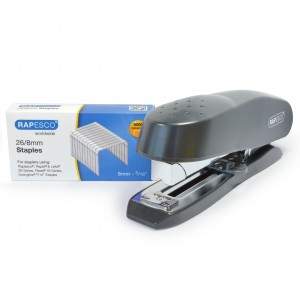 For executive desk-top stapling, the Rapesco Spinna heavy duty front-loading stapler offers 50 sheet (80gsm) stapling capabilities coupled with stylish and ergonomic design ensuring comfortable use and pride of place on many a desktop.Easy to load, the Spinna features push-button front loading and employs a magazine safety brake system to control the ejection of the magazine. The Spinna is available as part of a set that also features 5,000 Rapesco 26/8mm staples.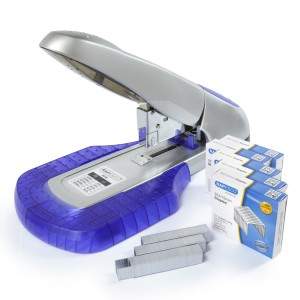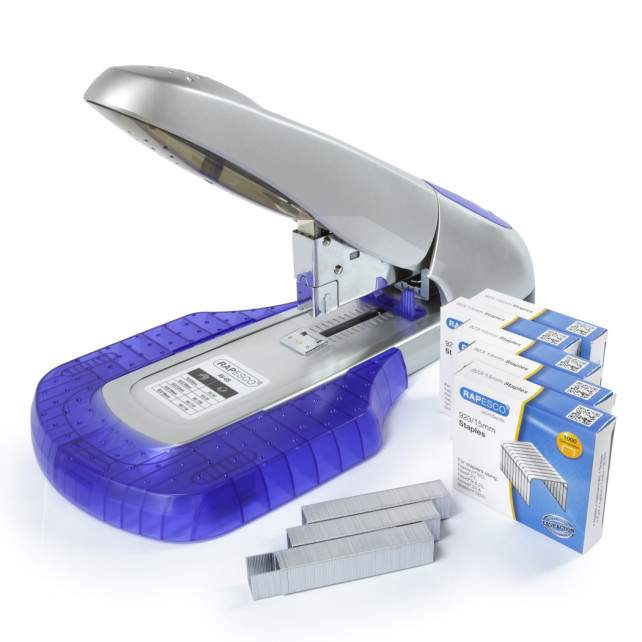 The AV-69 marries high stapling capacity couple with stylish design and high-spec, available as a set with 5,000 staples. With a stapling capacity of 115 sheets (80gsm), this heavy duty stapler is designed to deliver great results time after time with minimal user effort. This set includes the AV-69 Heavy Duty stapler with 5,000 923/15mm staples – ideal for stapling up to 115 sheets.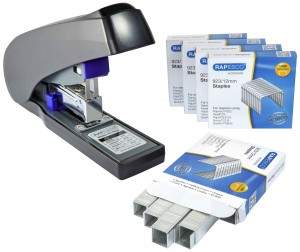 The X5-90ps offers high-capacity stapling with up tp 60% less stapling effort required. This cleverly engineered stapler has a capacity of 90 sheets (80gsm) and will make light work of demanding stapling tasks. With features including a paper guide that can also be used to clear staples in the unlikely event of a jam, the X5-90ps Less Effort stapler is also available in a set which includes 5,000 Rapesco 923/12mm staples, offering a high level of performance, practicality and value.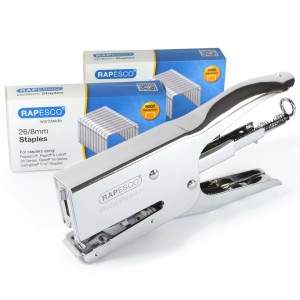 A traditional, all-metal stapling plier, the Rapesco Porpoise is ideal for a range of applications. Supplied, as part of a set, with 10,000 Rapesco 26/8mm staples. Ergonomically designed and with contoured handles, this stapling plier has a throat depth of 60mm and is perfect for packaging work, jiffy bags and mail room tasks. With a rear spring-loading mechanism, the Porpoise fires Rapesco 26/6-8mm and 24/6-8mm staples and is now available as part of a set which includes 10,000 Rapesco 26/8mm staples.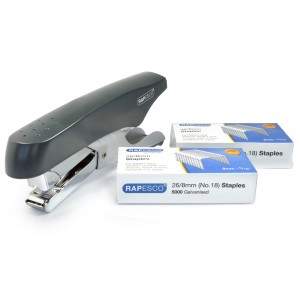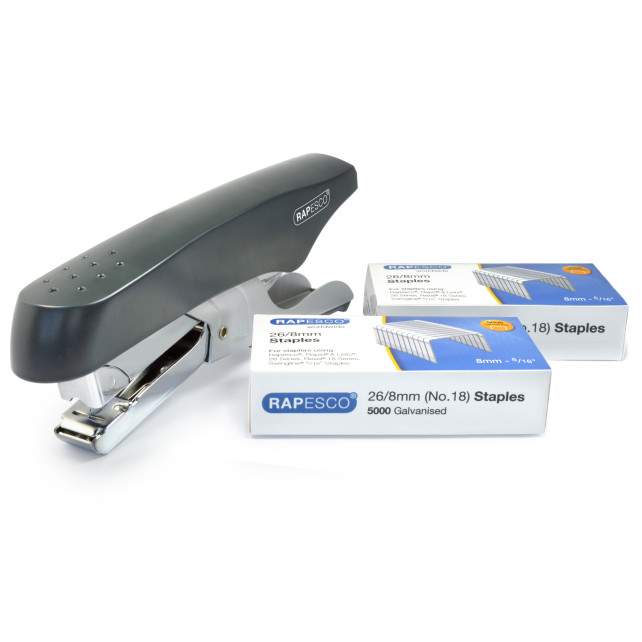 The Whale is a tough, metal-constructed stapling plier with ergonomic styling, comfortable handle grip and push-button front-loading system for ease of use. With a stapling capacity of up to 50 sheets the Whale is a highly capable plier stapler that's at home in the office, mail room, school and a range of other work stations. As part of this set, the Whale is supplied with 10,000 26/8mm Rapesco staples – providing everything you need to achieve great results on a range of applications.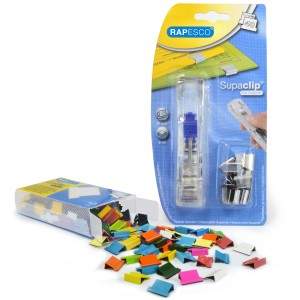 The Supaclip® is a unique and handy alternative to paperclips and staples. Easy to use, remove and reuse, the Supaclip dispenser easily attaches clips to paper and many other materials , idea for keeping papers neat, sealing packets, fastening for freshness and a host of uses around the office, home and even the garden. The Supaclip 40 Dispenser is now available in a set which includes 150 multi-coloured refill clips – ideal for a range of applications and perfect for colour-coding documents.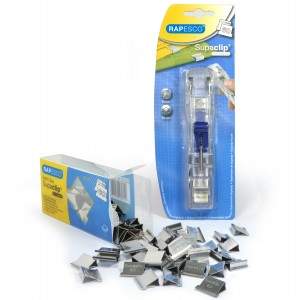 For larger applications the Supaclip® 60 dispenser is capable of handling up to 60 sheets of paper (80gsm) as well as a range of different materials. There's no need to punch or staple with Supaclip and the clips can be used time and time again, without marking the paper. Ideal for external tasks and work in the garden or shed as it handles stainless steel refills, the Supaclip 60 is now available in a set which includes 100 Stainless Steel refills along with the 8 clips pre-loaded in the dispenser.
We'll be adding more products as sets in the coming months, check out the full range of those products available in great-value sets.