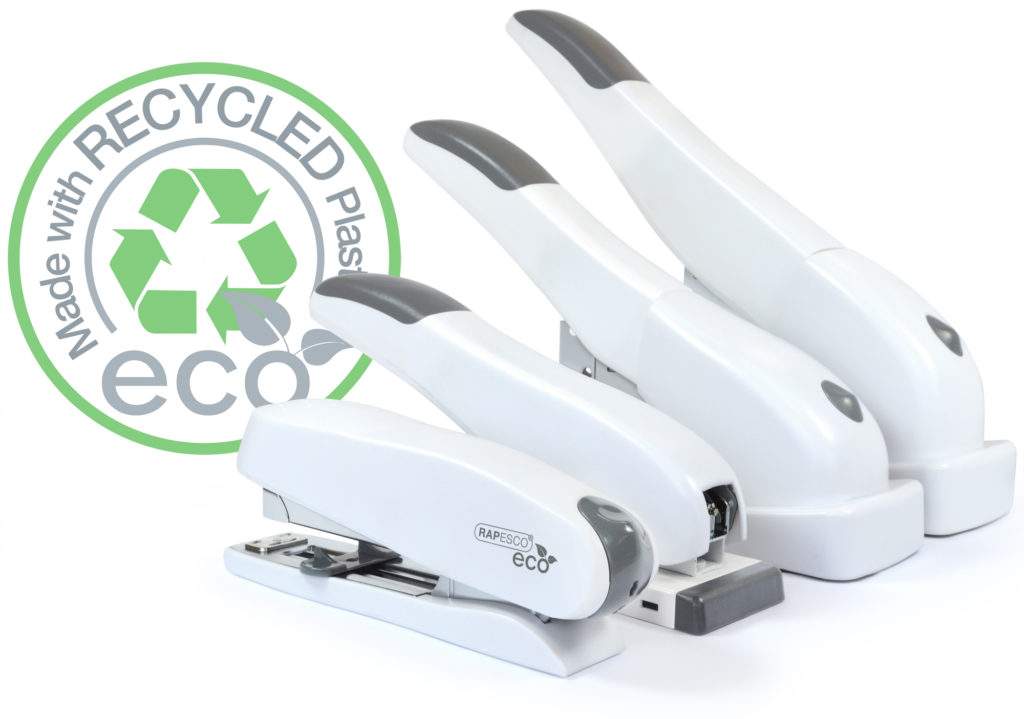 Rapesco Office Products – one of Europe's leading office products manufacturers – are making good on their commitment to the environment; upgrading a number of their existing products to ECO material and launching several new exciting ECO products.
More than just a product range for Rapesco, Eco is a statement and philosophy that means that decisions within every aspect of their business is taken with care for the environment. As part of this commitment, Rapesco will be upgrading a number of their key products which will see their specification improved by moving to ECO material. The company is also launching four new ECO products that mark a step away from the norm for such products. These heavy-duty staplers, manufactured using a high-percentage of recycled plastic, will be available in attractive, soft-white colours and, importantly, will be offered at the same prices as their non-Eco predecessors and counterparts in order that they reach the consumer at the same price as before.
Ken Trenberth (Trading Director), says "our ECO range is very different to others that are available. We have cracked the problem of manufacturing our products in a white recycled plastic, and our newly-expanded ECO range not only stands its ground against direct-competitors but performs strongly against other standard, non-eco products – all without the need for any price premium as often found with product holding a 'recycled' badge. It's little surprise that we've seen a huge interest in this range from around the world".
This new approach to ECO products not only sits firmly within the company's commitment to a sustainable, environmentally-aware future but also delivers upon their promise to provide customers and end-users alike with a genuinely innovative and exiting alternative to the norm.
Explore Rapesco's full range of ECO products or contact us at marketing@rapesco.com for more information.